The Red Hook Sugar Factory
Folk art, antiques, and outsider art


Source of Massive Star Tie-ins

The star tie-ins we are offering came from the Red Hook Sugar factory in Brooklyn, NY. This was according to our source, an architectural salvage company, who removed them from the building. Following are two photos and a short description about the factory and its ties to former Philippine dictator, Ferdinand Marcos. It was also called the Revere Sugar Refinery, located at 280 Richards St, New York, NY 11231.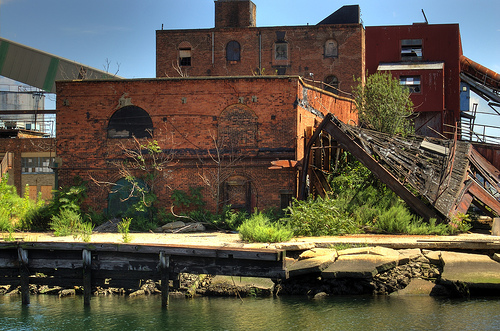 "The Revere Sugar Refinery, once owned by Antonio Floriendo, a Marcos (as in Ferdinand and Imelda) Family confidant, declared bankruptcy in 1985, and the structure had been rotting into the pier, until ... contractors started taking the place apart. It had been abandoned since 1985, when its former owner - a business partner of Philippine dictator Ferdinand Marcos - went bankrupt. The factory building has an undeniably colorful history: One past owner was Antonio Floirendo of the Philippines, a close associate of Ferdinand and Imelda Marcos. In 1983, authorities seized a 307-pound shipment of cocaine from a Panamanian ship that was docked at the plant. And for years, an abandoned lightship has been sunk just next to the property, discarded after several failed attempts to make it a floating restaurant or a museum."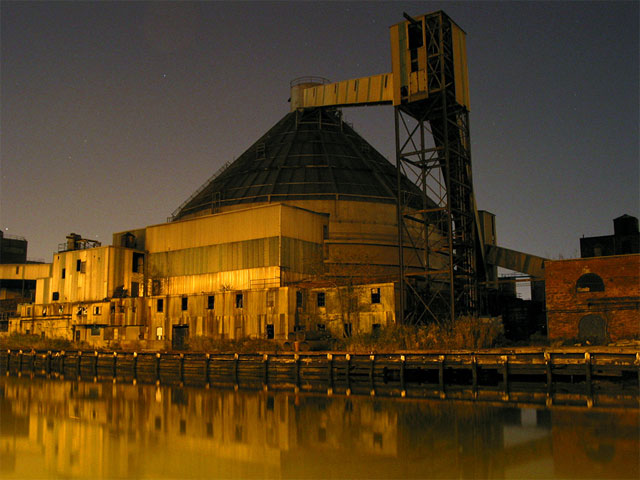 "Some sad news for fans of New York industrial architecture: demolition permits have been issued for the Revere Sugar Refinery, located on a pier off Beard Street, and sandwiched between the site of the new Fairway and the soon-to-be-built Ikea. The property was recently purchased by Thor Equities, the same company that is working on the "redevelopment" of Coney Island. The site has long been a popular destination for photographers."

Credits and links:
Photo sources and articles: The Gothamist
about.com
Outside.in: News about Revere Sugar Refinery in Red Hook, Brooklyn, New York, NY and The New York Times, NEIGHBORHOOD REPORT: RED HOOK; Symbol of a Sweeter Past Has a Murky Future
Back to Previous Page


Home Page | Site Guide | Top of page | Inventory | Ordering | Contents | Search
What's New | Using the Site | Resources | Featured Sale | Contact Us


Comments:
Artisans: Matt Lippa or Elizabeth Schaaf
P.O. Box 256, Mentone, AL 35984 USA
(256) 634-4037 (9AM - 8PM Central Time Only please.)
Copyright © 1995-2010 Artisans. All Rights Reserved.