Current Featured Selection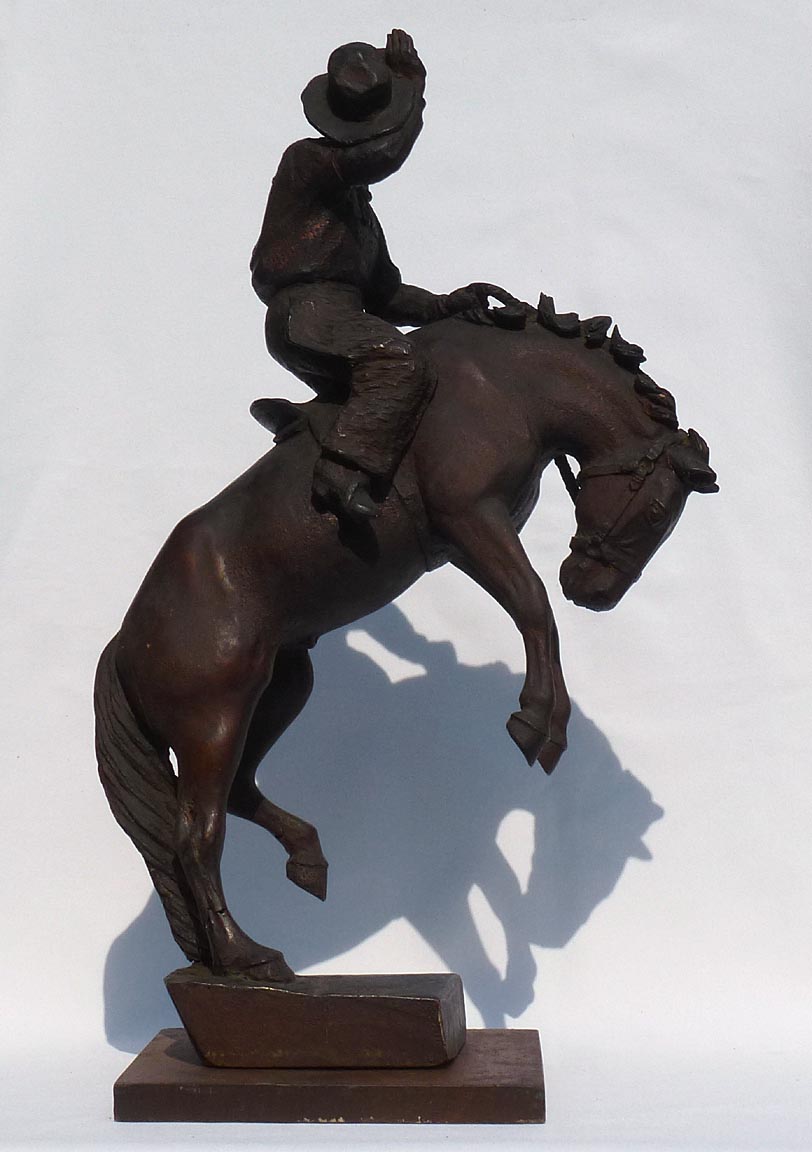 This is an exceptional carving of a cowboy riding a bucking bronco. It is very lifelike and detailed, with a strong sense of motion. The surface is a finely alligatored dark varnish or lacquer. The carving is mounted on a slightly larger slab of wood as a base. It stands 21 1/2" high by 8" wide by 13" deep. There are a number of old repairs where the carving was broken at one time. These include two of the horse's feet, the tail, and one arm and neck of the cowboy. They are tight and not very noticeable, but we have tried to include closeup photos of all of them. Contact us if you want more details. The age is probably from the early 1900's, but it could be older. It is a spectacular piece. Inventory Code: COWH. Carved cowboy on bucking bronco ... Closeup of cowboy ... One side ... The other side ... Fourth view ... From back ... Another back view ... Another closeup of cowboy ... Closeup of horse ... Closeup of head and arm repairs ... Closeup one side ... Closeup other side ... Another closeup of horse ... Closeup of repair on rear leg ... Closeup from back of cowboy ... Repair on tail ... From below ... With a soda can for scale.


The regular price is $2000.00.
The feature sale price, for a limited time, is $1400.00.


This sale was posted September 20, 2022. The sale prices are
only
good until sold or until we post a new sale.
If you have
registered
for updates, you can automatically receive an e-mail notice of new sale items.
Register to receive email updates when we add new items.
Your information is confidential. We
never
release it to others.
Our Privacy Policy

Home Page | Site Guide | Top of page | Inventory | Ordering | Contents | Search
What's New | Using the Site | Resources | Featured Sale | Contact Us


Comments:
Artisans: Matt Lippa or Elizabeth Schaaf
(256) 886-2809 (9AM - 5PM Central Time Only please.)
Mailing address