Current Featured Selection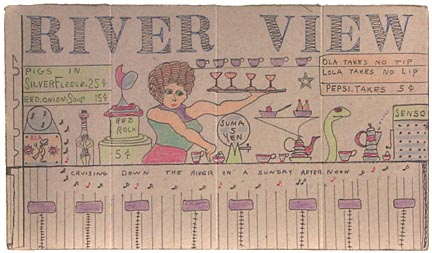 River View is a diner by Lewis Smith, drawn in ballpoint, marker and crayon on the back of a flattened cracker box. It measures approximately 10" by 17", in excellent condition. Some of the inscriptions include "Ola Takes No Tip" "Lola Takes No Lip" "Pepsi Takes 5¢". Inventory Code: LSC156.
"River View" ... Reverse ... With a 12" ruler for scale.



The regular price is $1,100.00.
The feature sale price, for a limited time, is $850.00.


This sale was posted June 7, 2023. The sale prices are
only
good until sold or until we post a new sale.
If you have
registered
for updates, you can automatically receive an e-mail notice of new sale items.
Register to receive email updates when we add new items.
Your information is confidential. We
never
release it to others.
Our Privacy Policy

Home Page | Site Guide | Top of page | Inventory | Ordering | Contents | Search
What's New | Using the Site | Resources | Featured Sale | Contact Us


Comments:
Artisans: Matt Lippa or Elizabeth Schaaf
(256) 886-2809 (9AM - 5PM Central Time Only please.)
Mailing address