Featured Selection for May 1, 2013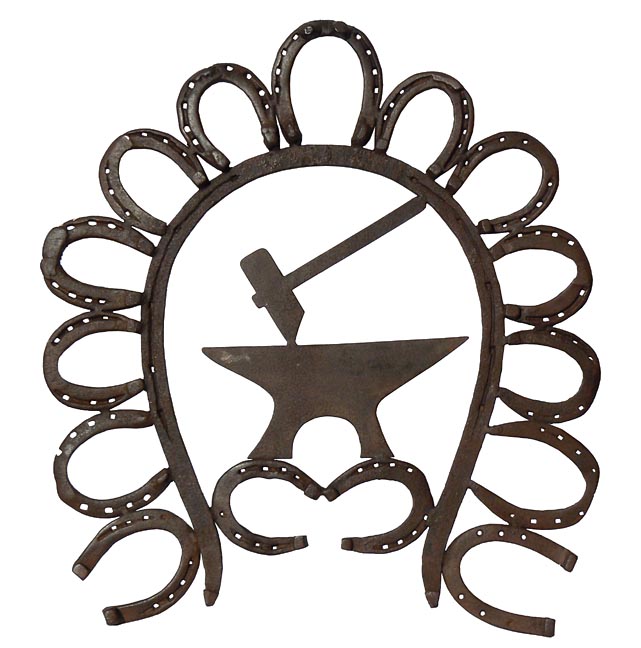 This is an old iron trade sign for a blacksmith shop. It was made and forged, using a variety of horse shoes, welded around a much larger stylized horse shoe. This encloses a cut and hammered anvil and blacksmith's hammer. The piece is about 28 1/2" high by 25 1/2" wide. It is in excellent condition, and has developed an old dark rich surface, which is highly desirable and reflects many years of outdoor use. There are a few small old paint drips, mostly on the back. It was probably made in the mid to late 1800's. Inventory Code: TROC.

See a slideshow of several views [482k] ... 19th c. blacksmith's trade sign ... Closeup of top ... Closeup of anvil and hammer ... Closeup of bottom ... Closer view of top ... Side view ... The other side ... Back view ... Closeup of the back.



The regular price is $2500.00.
The feature sale price, for a limited time, is $2000.00.


This item was posted May 1, 2013. The sale price is
only
good until sold, or until we post the next item.
If you have
registered
for updates, you can automatically receive an e-mail notice of new sale items.
Register to receive updates when we add new items.
Your information is confidential. We never release it to others. Privacy policy.
Required Fields

If there is any problem with registering, please

Home Page | Site Guide | Top of page | Inventory | Ordering | Contents | Search
What's New | Using the Site | Resources | Featured Sale | Contact Us


Comments:
Artisans: Matt Lippa or Elizabeth Schaaf
P.O. Box 256, Mentone, AL 35984 USA
(256) 634-4037 (9AM - 8PM Central Time Only please.)
Copyright © 1995-2013 Artisans. All Rights Reserved.