The Outer Space Art of Robert E. Gilbert: Page 1
Folk art, antiques, and outsider art Page 2 3 4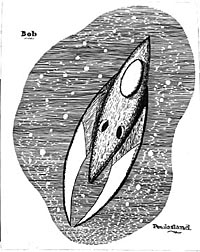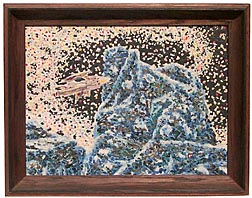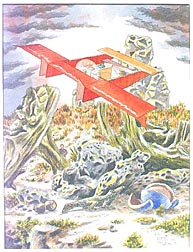 From the 1950's through the '70's Robert E. Gilbert (or REG, as he often signed himself) was a prolific contributor of art to science fiction fan magazines. He also published several stories, at least one in Galaxy. The work for the fanzines was pen and ink, to show up with the inexpensive reproduction techniques, but he also did a large number of paintings in oil, pastels, and watercolors. In addition, from the 1940's through the 80's he did a lot of non-science fiction art, experimenting with traditional and non-traditional styles.
One of the most striking things about Gilbert's work is the strong sense of the alien. Landscapes are strange and unexpected. Even when humans are depicted, they look eerie somehow, as if they were just one more bizarre species in a weird galaxy. His experimentation with technique is also very interesting, and the detailing, especially of the black and white ink drawings, is fascinating.
REG was a native of Kingsport, Tennessee, and died at age 68 on April, 4 1993. He attended Lafayette College and East Tennessee State University; and was a graduate of Washington School of Art. He was an Army veteran and served in World War II.
We have acquired the remaining body of his work from his estate. There are over 400 pieces, of which about 150 have outer space, science fiction, and future technology themes. We will be adding more images as we photograph them. You can register to be notified by e-mail when we add more of his work.
REG 69. A bizarre landscape with tiny people and weird shapes. It is drawn with crayon and colored pencil on blue paper. The signature is Robert E. Gilbert, Jan. 30, 1980, and the size is 9" high by 11 3/4" wide. $175.00. Image.

REG 84. A spaceship flying over an eerie, cratered landscape. Drawn in wonderful color with crayons or pastels on heavy paper, like cardstock. The paper is not cut exactly square. 11" by 13 3/4", initialed and dated 1983. The condition is very good. $325.00. Sci-fi art ... Back.

REG 96. An untitled planetscape showing an area which has two suns and a spaceship. It is crayon on yellow card stock, approximately 13" high by 10" wide, and is signed and dated in the corner "REG 1991". $275.00. Image ... Larger photo.

REG 7. "First Flight", 10 1/4" by 13 1/2", in a matt 18" by 24", watercolor and pencil, $500.00. Image.

REG 4. "Spaceship Bob", 11" by 14", ink on posterboard, $325.00. Image.

REG 8. Alien landscape, 1984, 10 1/4" by 14 1/4", crayon on heavy paper, $150.00. Image.

REG 5. Spaceship, 11" by 13 1/2", 1976, ink on heavy paper, $225.00. Image.

REG 9. 19 3/4" by 25 3/4", 1969, airbrushed? or pastels on flocked/velvety artist's board, $325.00. Image.

REG 10. Spaceship and alien landscape, framed; 12" by 18" (frame 14 1/2" by 18 3/4"), oil on canvas, $750.00. Image ... Closeup.

REG 71. A spaceship blasting past a crescent moon, drawn in ink on illustration board, and signed REG 1969. It measures 14" high by 18" wide and is very slightly darkened with age. $325.00. Image.

REG 91. Untitled: Two Heads. Pen and ink on card stock. Notes on the rear indicate REG was paid for this 6/30/54. That and other notes lead us to assume it was published. 8 1/2" by 11". He was having fun with his signature on this drawing. The price is $300.00. Image ... Back view ... Larger photo.

REG 101. Abstract oil on canvas with wooden stretchers, unframed. 28" high by 16" wide by 3/4" deep. The paint is applied with strong, textured brush strokes. It is signed "REG 1959". There is some slight wear on the corners and a few tiny flakes missing on the right hand edge. $250.00. Painting by Robert E. Gilbert ... Side view ... Back view ... With a soda can for scale.
Some much larger photos: Painting by Robert E. Gilbert ... Side view ... Back view ... With a soda can for scale.

REG 3. Alien landscape, tower, flying craft, 11" by 13 3/4", 1977, ink on heavy paper, $125.00. Image.

Stories by Robert E. Gilbert on Gutenberg.org (opens in a new window).
Register to receive updates when we add new items.
Your information is confidential. We never release it to others. Privacy policy.
Required Fields

If there is any problem with registering, please

Home Page | Site Guide | Top of page | Inventory | Ordering | Contents | Search
What's New | Using the Site | Resources | Featured Sale | Contact Us


Comments:
Artisans: Matt Lippa or Elizabeth Schaaf
(256) 886-2809 (9AM - 5PM Central Time Only please.)
Copyright © 1995-2017 Artisans. All Rights Reserved.